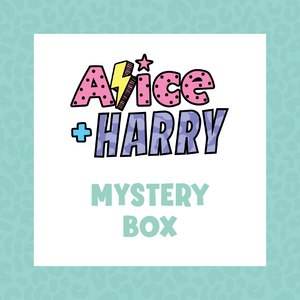 Alice Lily
Surprise Orders
Regular price
£30.00
£0.00
Unit price
per
Tax included.
Can't decide on a fabric or item?! We can offer surprise boxes to help with this! Please be aware that you cannot request specific items or fabrics, nor is any fabric guaranteed in a box... items in a surprise box are a complete surprise 
Surprise boxes can contain anything at all from our website including clothing, accessories, backpacks and homeware. 
We just need 2 bits of information from you
- What gender you're buying for (please leave a note at checkout, otherwise we will send any of our fabrics)
- What size you're after 


Price Options - 
-£30, contains at least £34.50 worth of products.
-£50, contains at least £57.50 worth of products. 
-£70, contains at least £80.50 worth of products.
- £100, contains at least £115 worth of products. 
This is a minimum of 15% extra!
 Want to subscribe?!
Your order will still be made 4-6 weeks after your order is placed, but you will receive your box monthly until you decide to stop it!
IMPORTANT INFO
Please list any items you already have in the size you're ordering in the notes section at checkout to avoid duplicates. If this isn't done you may receive items you already have!

*% Discount codes (e.g.follower codes) cannot be used with surprise boxes, this does not include store credit*

- We can mix 2 sizes max. Just pop a note in the product notes section. If you're after 3 ore more sizes you will need to purchase more than 1 box. 
- These are none refundable, and items cannot be exchanged. The beauty of a surprise box is that you're not sure what you're going to get, this is a risk... or surprise that you are agreeing to take when you purchase the box! 
- You may receive one off items, limited edition items, standard stock, discontinued fabrics.... anything! 
Please be aware that you cannot request specific items of fabrics... items in a surprise box are a complete surprise 
---