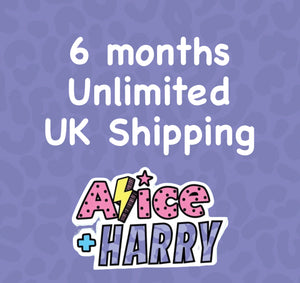 Alice + Harry
6 months Unlimited Standard UK Shipping!
Regular price
£20.00
£0.00
Unit price
per
Tax included.
Purchase this for 6 months worth of free UK shipping!
Once ordered we will email you your own unique free shipping code which you can use at checkout on ANY of your orders for 6 months. 
If you have any clothing in your basket when you purchase this product please don't panic - the website will charge you the standard postage costs but that will be refunded when we issue your code.
We set each shipping code to combine with rep codes, so if you have a code you are welcome to use both at checkout. If you forget to use one of them, we are not able to refund retrospectively.
If a new discount code is created that doesn't combine with your shipping code then use the discount code and email us for a shipping refund, on that occasion we can then refund shipping.
Please do not use discount codes when purchasing this item. Orders placed using a discount code will be cancelled. 

IMPORTANT INFO
- Your shipping code should only be used with the address linked to your account. If used with multiple addresses then the code will be cancelled with no refund or warning. If you move addresses please let us know. 
- If you have more than 1 order outstanding we may ship them together.
- If you have another code and email for a postage refund please allow us up to 5 working days to process your refund. Refunds will usually be done much quicker, however 5 days is maximum. 
- The time taken to receive your money once we have issued a postage refund depends on your payment provider (e.g. paypal is usually immediate but some card issuers take 5-7 days). You will receive an email from us once your refund has been issued by us. 
- Free postage code will apply to future orders only. Postage on orders placed before the purchase of unlimited postage cannot be refunded. 
- This code cannot be redeemed on orders shipped outside the UK and is only applicable for standard postage 
---